LAG Ylä-Savon Veturi
Local Action Group (LAG) Ylä-Savon Veturi is a non-profit, rural development association operating in Ylä-Savo region in Northern Savo. It was established in 1999. It is one of the three LAGs in Northern Savo (other two are LAG Mansikka and LAG Kalakukko). Ylä-Savon Veturi operates in seven municipalities: Iisalmi, Keitele, Kiuruvesi, Lapinlahti, Pielavesi, Sonkajärvi and Vieremä.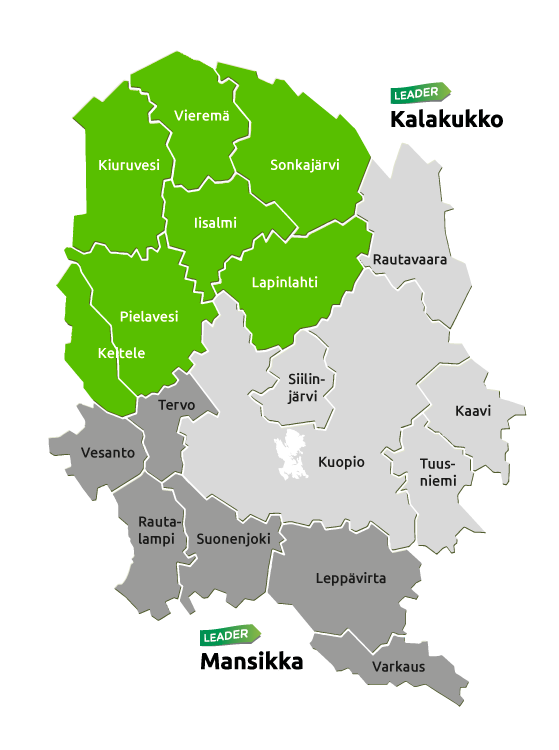 The aim of the association and the local development strategy is to encourage the rural people to develop their own living environment and daily life, to increase co-operation between rural associations and municipalities and to assist rural people, enterprises and associations in the preparation and implementation of their development projects. Ylä-Savon Veturi grants Leader fund for local developing projects and innovative ideas.
Rural Development Association – The Local Activator
supports projects which are born from the needs and ideas of rural people
offers assistance for the planning and implementing projects
evaluates the projects´ eligibility for financing
organizes training and seminars
promotes transnational cooperation and help associations and entrepreneurs to find partners in EU countries
Within all of these themes, the transnational work is promoted and encouraged!
Please, contact:
Minna Partanen
LAG Manager
phone: +358 40 760 7173
e-mail: minna.partanen@ylasavonveturi.fi
More information